Relationship-Building Made Easy for Property Managers

Find out what you can do to build stronger relationships and create a more sustainable property management business.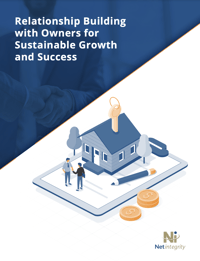 Every property management company is only as strong as its relationships with employees, colleagues, and Board of Directors. To take your business to the next level, you need to build and cultivate strong, mutually beneficial relationships.
If you're looking to prioritize relationship-building, you've come to the right place. Download our free e-book, Relationship Building with Owners for Sustainable Growth and Success, to learn:
Why owner relationships matter.
Relationship-building tips for property managers.
The role technology can play in relationship-building.
And more!
Download the guide today!
Download the guide today.